Monday, January 15, all libraries closed for Martin Luther King, Jr. Day
---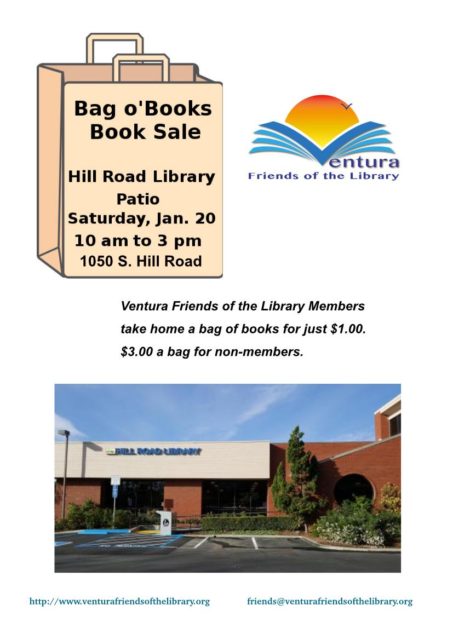 ---
Hill Road Library Now Open!
Hill Road Library Hours
Monday – Wednesday:  10 am to 6 pm
Thursday:  2 pm to 6 pm
Friday – Sunday:  10 am to 2 pm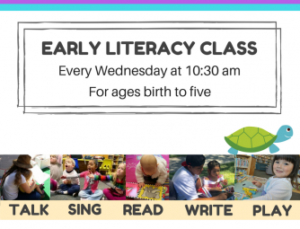 Early Literacy Classes begin at Hill Road Library!
Wednesdays @ 10:30 am,   January 3, 10, 17, 24 & 31
---
E.P. Foster Library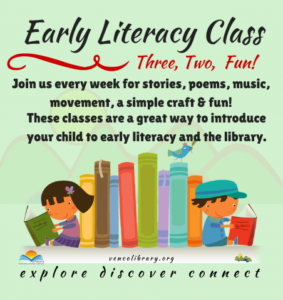 Early Literacy Classes
Tuesdays & Wednesdays @ 10:30 am
January 2,  3, 9, 10, 16 17, 23, 24, 30 & 31
Saticoy  Library Early Literacy Classesz
Thursdays,  January 11, 18 & 25
9:30 am – 10:30 am  and 11:00 am – 12:00 pm
Bilingual Early Literacy Class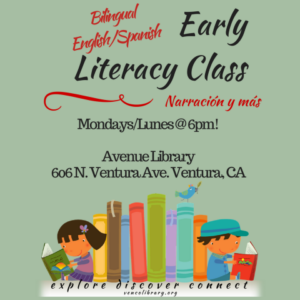 Avenue Library
Mondays, 6:00 – 6:45 p.m.  Jan.  8, 22 & 29
These classes are a great way to introduce your child to bilingual early literacy and the library. Join us every week for stories, poems, music, movement & fun!  Totally free and open to the public.
Estas clases son una excelente manera de presentar a su hijo a la alfabetización temprana bilingüe y la biblioteca. Únete a nosotros cada semana para historias, poemas, música, movimiento y diversión! Totalmente gratuito y abierto al público.
---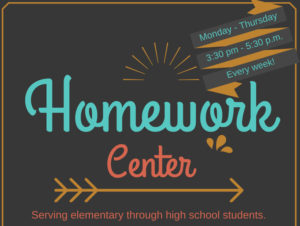 Homework Help at the Library
(closed during winter break)
E.P. Foster
E.P. Foster Library and Project Understanding provide students with tutors and a safe, nurturing environment in which to complete assignments and projects. To sign up, contact Maria Gonzales at
(805) 652-1326 ext 303
Mon – Thurs: 3 – 5 pm
Avenue Library
There is a bilingual tutor on site.
(805) 643-6393
Mon -Thurs: 3:30- 5:30 pm

Saticoy Library
Project Understanding provides tutors.To sign up,
contact Maria Gonzales at .
(805) 652-1326 ext 303
Mon – Thurs: 3 – 5 pm

Homework Centers provide free homework help,  including free printing, computer access and research assistance for students K-12. Assistance is available on a first-come, first served basis.
---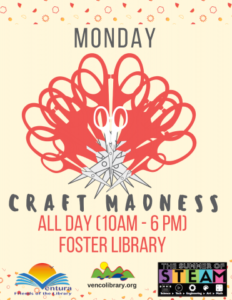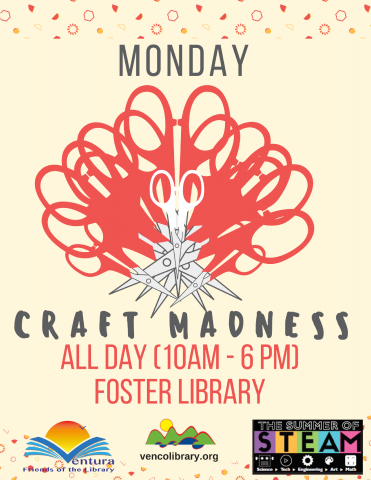 E.P. Foster
Mondays
10 am-6 pm
Drop-in craft table!
---
Ukulele
Jam Sessions
January 8 & 22

7:00 to 10:00 p.m.
Join local ukulele lovers as they strum together in the Topping Room on the first and third Monday of the month.
All skill levels are welcome to join in the fun!
---
Lego Play:
Build, Learn, and Play! Bring your imagination and experiment with creative designs. Children of all ages welcome!
SATICOY LIBRARY

1:00 om to 5:00 pm
AVENUE LIBRARY
Thursdays

3:00 pm – 5:00 pm
E.P. FOSTER LIBRARY:

Tuesdays @ 3pm

Saturdays @ 10:30 am  (Foster – Lego Play canceled for Saturday, January 6, 2018 – 10:30am)

---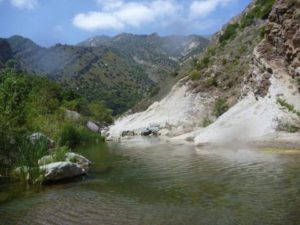 Venture (a) Out in the County… a Sierra Club Educational Series
Tuesday,   January 9,  2:00 pm to 4:00 pm   Topping Room
Learn about great places to hike, camp, and scenic spots around Ventura County.
Speaker Ken McAlpine:
The Importance of Moments,
and the beauty of the Channel Islands.
---
Saticoy Maker Mentors

Saticoy Library
Tuesdays,
January 16, 23, 30
4:00 pm –  5:30 pm
Join us for this design and 3D printer workshop.
---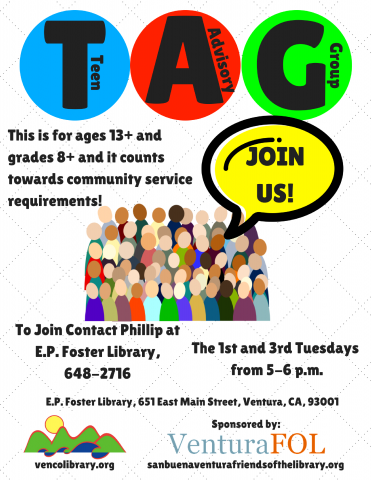 1/2 & 16 Tuesdays @ 5-6pm
TAG (Teen Advisory Group) meets every month on the 1st and 3rd Tuesday of the month.
Now is the time to join TAG, if you want to share ideas, meet new people and have a great time shaping the library teen program.
Active members will get credit towards School Community Services Hours
TAG meetings are at E. P. Foster Library, in the Young Adult area, on the 2nd floor.
---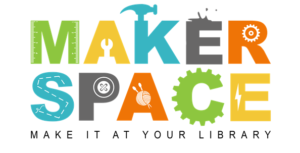 E.P. FOSTER
Wednesdays @ 4-6 pm
Come by the Makerspace to learn, create, and share STEAM (science, technology, engineering, art, and math). We have 3D printers, computer coding, stop motion animation, a laser cutter/engraver, and so much more! Play hard, have fun, explore, discover, connect.
---
Twisted Stitchers Fiber Arts Club
 Thursday, January 11 & 25
10:30am
Get together with makers from all across the fiber-arts world.
Meet, teach, connect, share.
Poetry Open Mic
 January 4: 
Special reception and reading by the winner of the "The First Time" Poetry Contest
Free and open to the public! Open Mic night hosted by Phil Taggart.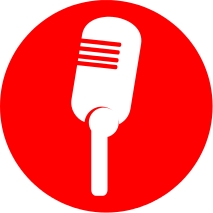 Enjoy a featured poet, then share your own work with the group. All are welcome to just sit and listen as well.
Starts at 7:30 every Thursday
 January 4, 11, 18, & 25
---
Friends of the Library Book Discussion
meets in the Topping on the First  Saturday  of the month 10 am to noon to discuss a variety of fiction and non-fiction.
Always open to new members.
January 6, 2018
Hunger of Memory: The Education of Richard Rodriguez by Richard Rodriguez
February 3
The Woman Next Door by Yewande Omotoso
More info:  Marcia at (805) 407-3510, marciarenee@gmail.com
---

Chess Around the Corner
Saturdays,  January 6, 13, 20 & 27

11:00 am to 4:00 pm,  E.P. Foster
Calling all chess players! Keep your skills sharp with this  drop-in session of free play.
Boards will be set up and ready to go. Bring your best moves!
---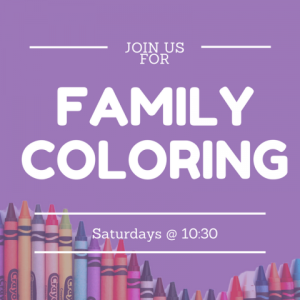 E.P. Foster, Avenue and Saticoy libraries.

Coloring sheets for children and adults are provided free of charge.
---
Saturdays,  10:30 am
January 6, 13, 20 & 27
E.P. Foster – Spanish Conversation Group
Join this informal group to chat and practice your Español!
Bring your own coffee!
Meets in the Rentfrow Room.
---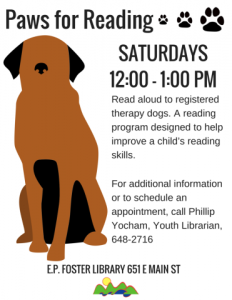 Paws for Reading
Saturdays 12 – 1
E.P. Foster Library
Read aloud to registered therapy dogs.
(sign-up required,
call Phillip Yocham at 805 648-2716)
Saticoy Library
January 27
(sign-up required,
call Jane Middleton at 805 647-5736)
Paws for Reading at Avenue Library
Saturday, January 20, 2018 –  12:00pm to 1:00pm
Call (805) 643-6393
---
English Classes for Adults
Avenue Library
FREE/GRATIS ENGLISH CLASSES
Introductory English classes offered through Laubach Literacy at Avenue Library. Comenzando clases de inglés ofrecidos a través de Laubach Literacy en la biblioteca.
Pumarosa English Class
Mondays @ 9:00 – 10:30 am & 6:00-7 pm
Wednesdays @ 9:00 – 10:30 am & 6:00-7 pm
Meeting Room
Learn English in a fun environment that combines conversation, singing, and technology.
Saticoy Library
FREE/GRATIS ENGLISH CLASSES – Mondays/Lunes Y Wednesday/Miércoles at 3 PM
ESL Conversation Groups hosted by Laubach Literacy of Ventura County
---
Computer assistance
Computer classes are now one-on-one sessions.
Call the library (805) 648-2716 for more information.
Set up a time for one-on-one help with your favorite library staff! Appointments are free and open to the public, and typically last between 15-30 minutes. Classes are held at E.P. Foster library in downtown Ventura.
Submit request here.
---
Book Donations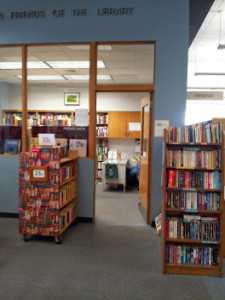 may be left in the blue bins located outside the
Friends of the Library Bookstore in the E.P. Foster Library, during hours when the bookstore is open:
Wednesday – Saturday
11:00 am to 4:00 pm
DONATION GUIDELINES:
We accept HIGH QUALITY donations to generate revenue for library programs through our bookstore.
Please DO NOT DONATE:  damaged, neglected books.  No magazines, encyclopedias, or large  dictionaries.  We have limited volunteer help and cannot sell these items. Please take older collections to an interested thrift store or recycle venue.