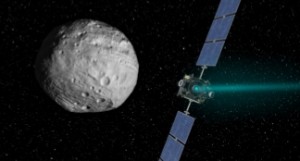 Join Dr. Marc D. Rayman,  chief engineer and mission director on NASA's Dawn mission, to learn about the two largest unexplored worlds in the inner solar system.
E.P. Foster Library
Sunday, June 23
3:00 to 4:00
The ambitious and exciting Dawn mission is one of NASA's most remarkable ventures into the solar system. The spacecraft has recently completed an exploration of Vesta and is now traveling to Ceres; these were among the last uncharted worlds in the inner solar system prior to Dawn. The alien landscapes Dawn reveals provide humankind with a new perspective on the solar system.
Free and open to the public. Call (805)648-2716 for more information.