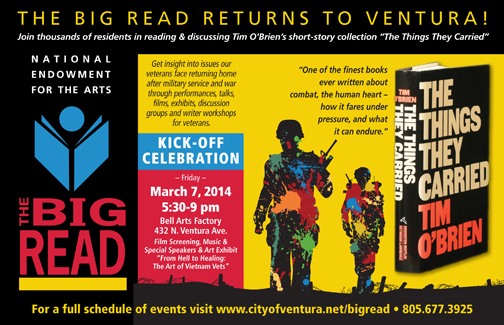 The NEA awarded the City of Ventura, in partnership with Ventura County Library a grant to participate in the national Big Read.
This grant will support two months of events promoting Tim O'Brien's book "The Things They Carried".  The book explores the experience of young soldiers at war and their adjustment difficulties upon returning home.
Mayor Cheryl Heitmann officially opens The Big Read at the Bell Arts Factory during the First Fridays Ventura Gallery Crawl.
The Bell Arts Factory is hosting an art exhibit, "From Hell to Healing: The Art of Vietnam Vets".
City of Ventura Community Partnerships, Ventura County Library, Bell Arts Factory, Ventura College and California Lutheran University are proud sponsors of Ventura's Big Read.
To see the full calendar of events, see http://www.cityofventura.net/bigread