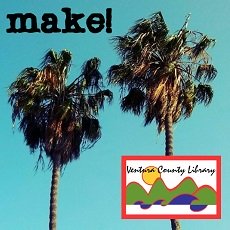 Local artists will be showing off their work at our monthly installment of make.show.tell. at E.P. Foster Library.
Tuesday, September 16, 2014
7 p.m. in the Topping Room
our second installment of make.show.tell.
This series allows makers, builders, and craftspeople from all around the Ventura area to share their skills with you! Join us for demonstrations of techniques and displays of finished works.
Stop by to see what your community is making!
On Tuesday, August 19,  community members gave a demonstration of machine sewing and showed off some stuffed toys and modified clothing.  There was also  a demonstration of acrylic painting, including images of completed works and small pieces for display.
– – – – – – – – – – – – – – – – – – – – – – – – – – – – – – – – – – – – – – – – – – – – – – – – – –