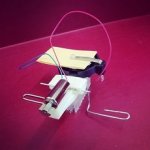 The Ventura County Library LAB will host
    Makeshop events at E.P. Foster Library!
On Tuesday, January 6, participants  use a  simple chemical reaction to create a bouncing ball.
On Tuesday, January 20,  5-7 p.m. Come to E.P. Foster Library for another special Library LAB activity:  Vibrating Robots!  Participants will be able to use small motors, battery clips, and assorted odds and ends to create fun little vibrating robots. If you're looking for a project that requires a mix of engineering and creativity, join us for this free event!
This free event begins at 5 p.m. and will take place on the second floor of the library. We hope to see you there, and stay tuned for information on additional Makeshop events through February and March!