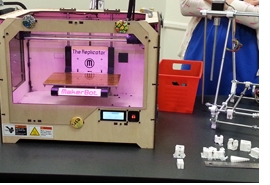 Friday, April 10, 2 p.m.
in the Library LAB on the first floor, next to the reference desk. Call the library for more information  (805) 648-2716.
This event will cover the basic concepts behind 3D printing as well as the software and hardware involved in creating models and exporting them as files for printing. Several laptops will be available for hands-on exploration, but participants are also welcome to bring their own.
---