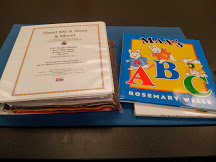 E.P. Foster Library
has offered the early literacy workshop
Read Me a Story & More.
In this workshop, parents and caregivers will learn the five early literacy practices that children need to be reading ready. They will learn how to extend stories into activities, including using a flannel board that the whole family can enjoy.
Class size is limited, and advanced registration is required. This workshop is for adults ONLY. Sign up at the children's desk or call 648-2716 and ask for the children's department.   This class may be offered again, so, if you are interested, please inquire.