Avenue Library is building relationships with community members of all ages.
On April 30, the library hosted the annual El dia de los ninos/El dia de los libros (Children's Day/Book Day) celebration of literacy for children of all linguistic and cultural backgrounds.  The live mariachi music, crafting workshop and an early literacy storytelling filled the stacks of Avenue Library to the brim.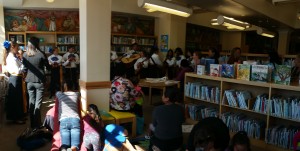 Avenue Library recently renovated the children's area to make room for more early literacy classes and craft workshops.
Students from Sheridan Way Elementary, Blanche Reynolds Elementary, EP Foster Elementary, Will Rogers Elementary, De Anza Middle School, Cabrillo Middle School and Ventura High School all sought Homework assistance at the library. Library staff member Sheila Popnoe reflected on how the homework center provides an intergenerational space for the community to come together and help each other:
"The students continue to stay engaged and interested in their homework. Often when I have many students at one time, the older ones will help the younger ones with their homework. It feels like a family, so helpful and friendly toward each other. Mothers sometimes come in with their children, and provide help to their children and others as well."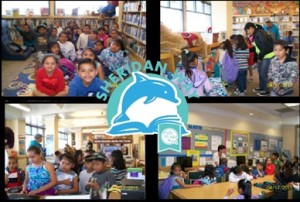 Avenue Libary also reaches out to local schools with comprehensive library tours.
The Spring Craft Party, originally intended for just two sessions, was extended an extra day due to popular demand.
Laubach Literacy holds English as a Second Language classes at Avenue Library.  Laubach Literacy has begun offering one on one ESL tutoring which has caused a sharp increase in the number of students attending.  In the middle of March, a water leak in one of the apartments above Avenue Library caused a temporary closure for two weeks.  Despite the main building being closed to the public, the popular ESL classes and Homework center continued in our own multipurpose room and in the spaces generously provided by the Ventura Avenue Adult Center (VAAC) and the City of Ventura.
Avenue Library has begun a volunteer partnership with Arc of Ventura County.  The Arc of Ventura County is a non-profit providing opportunities for adults with developmental disabilities.  Several Arc participants helped with packet assembly and light book cleaning after updating their library cards and picking up a few fun films and books.  Avenue Library will continue to seek out volunteer partnerships with the local community.
The Teen Advisory Group meets twice monthly at Avenue Library. There has been an upsurge in interest by local teens in volunteering as the school year nears completion and their community service hours are due. The Teen Advisory Group will be very involved in nearly every event planned for Summer Reading 2015.