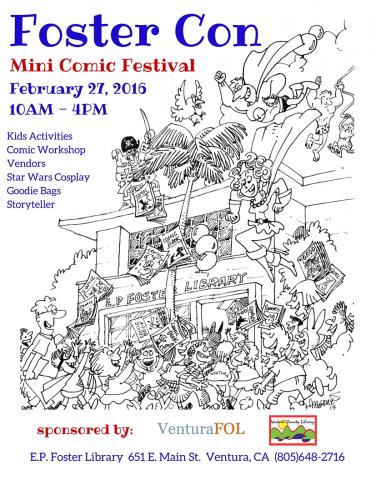 E. P. Foster Library's 3rd annual Foster Con Mini Comic Festival will be held on Saturday, February 27th, from 10 to 4. This event has something special for kids of all ages, and yes, even the grownups.
Many vendors will be returning this year, including Arsenal Comics and Games, Seth's Games and Anime, and Connie's Hot Dogs. The Mandalorian Mercs will also be returning, with club members dressed as original Star Wars characters, ready to take pictures with even the littlest Star Wars fan. Cosplay is welcomed and encouraged.
We have a new workshop this year, with Carlos Nieto III teaching drawing in the anime style. Those of you who attended last year's workshop on comic drawing will already be familiar with Carlos' work. In the past, he has worked with Disney and on The Simpsons. He has given workshops in both comic and animation drawing. I'm so pleased to welcome him back to Foster Con.
A new storyteller, Julie Jacobs, will also be appearing this year. She is both an artist and a teacher, who is currently working on her Master's Degree with an emphasis in storytelling. She has performed her own unique brand of storytelling magic for libraries and museums. Miss Julie has something special planned for everyone at Foster Con. Can't wait to see it.
The event will also have a special Superhero Station, where kids can create their very own superhero identity. They will receive a supercard i.d. card, where they can list their superhero powers, their superhero name, and secret identity, as well as a mask of their own to decorate, because a superhero isn't complete without his/her superhero mask.
Goodie bags are available to everyone who wants one, and there will be a raffle. Since winners will be notified after the event, you need not be present to win. All this and other surprises await you. See you there.
If there are any questions, feel free to contact the library at (805)648-2716.