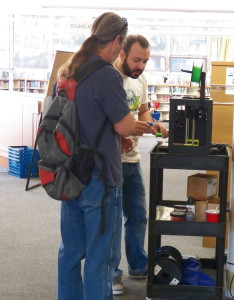 Meet Antonio Apodaca, our new Makerspace Librarian.
Here, he is demonstrating the 3d printer to a visitor to FosterCon at E.P. Foster Library.
With about a decade of public library experience, from page to administrator, Antonio is very excited to embrace the innovative role of Makerspace Librarian with Ventura County and Foster Library! In his former role with the Maricopa County Library District in Phoenix, Arizona, he organized outcome-based programs across 17 branches and coordinated a summer reading program for 62 libraries that had over 77,000 participants in 2015. Wearing many hats, Antonio was also the project lead on developing free and open source digital badging software, the head grant writer, the staff development manager, along with the lead on mobile makerspace kits and creative equipment labs. He recently relocated from Arizona with his lovely wife and two little girls and is honored to call Ventura County his home.
In case you're wondering, the "maker" movement is a new trend for public libraries, but has repeatedly surfaced throughout the years. As long as people have been making stuff, the spirit of makerspaces has been alive. The library is building on that concept, offering a physical place for people of all ages to share ideas and use creative technology, such as our laser 3D printers. Makerspaces are part DIY projects (Do It Yourself), part STEM practice (Science, Technology, Engineering, Mathematics) and part community involvement.
Antonio aims to continue the spirit of making—celebrating discovery, ingenuity and learning for the sake of learning. In the Library LAB, he will facilitate the growth and impact of "maker" programs and reinforce connections with neighborhood partners. With the help of the whole team, he looks to embed the spirit of "making" in library services, collaborations and projects.