Celebrate National Library Week 2015
April 12-18, 2015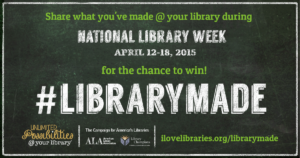 Today's libraries are more than just books. Increasingly, they are places of creativity where people can meet to share a hobby, use a 3D printer, edit a video, or use software to record their own music. Libraries offer access to the tools and technology essential to the economic and cultural lives of their communities.
The Library LAB is open for walk-ins on Wednesday evenings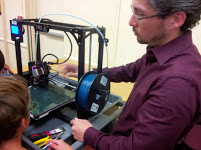 from 5:30 to 7:30 pm.
Whether you want to find out more about the software and hardware involved or use the printer or engraver for a project of your own, staff can walk you through the process and get you ready to start making!
This National Library Week, why not share what you've created with the help of the library?
Share a photo or link to your creation on Twitter, Facebook or Instagram using the hashtag #librarymade for the chance to win a $100 gift certificate to Maker Shed or Amazon. Photos can also be added to our Unlimited possibilities Flickr group. If 140 characters isn't enough, add your story to the collection here on the I Love Libraries website. Follow the fun during National Library Week on the #LibraryMade Hashtag Wall.