E.P. Foster Library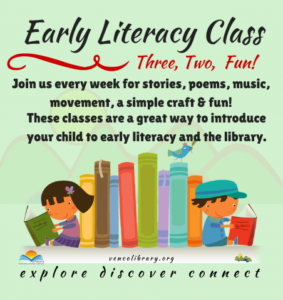 Early Literacy Classes
Tuesdays & Wednesdays @ 10:30 am
Saticoy  Library Early Literacy Classes
Thursdays
9:30 am – 10:30 am
and 11:00 am – 12:00 pm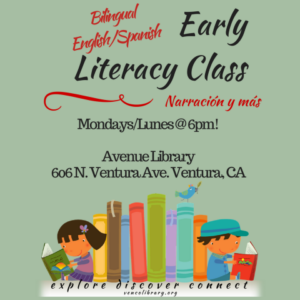 Bilingual Early Literacy Class
Avenue Library
Mondays, 6:00 – 6:45 p.m.
These classes are a great way to introduce your child to bilingual early literacy and the library. Join us every week for stories, poems, music, movement & fun!  Totally free and open to the public.
Estas clases son una excelente manera de presentar a su hijo a la alfabetización temprana bilingüe y la biblioteca. Únete a nosotros cada semana para historias, poemas, música, movimiento y diversión! Totalmente gratuito y abierto al público.