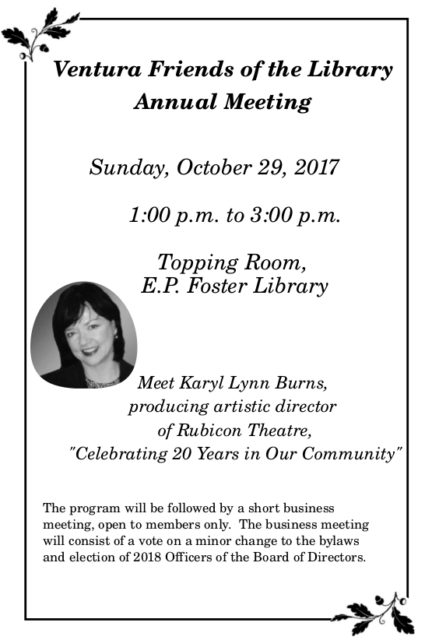 Our Annual Membership Meeting was held on Sunday, October 29, 1:00 to 3:00 pm.
E.P. Foster Library Topping Room.
Karyl Lynn Burns, producing artistic director of the Rubicon Theatre, regaled us with stories from the beginning of the Rubicon Theatre in our community and previewed next year's productions.
The program was followed by a short business meeting.
Gary Stephens presented annual treasurer's reports.
We  voted  to amend the bylaws to  state that officers assume their duties on January 1.  This change corrects an oversight. In 2015, our fiscal year was changed from April 1 through ­ March 31 to January 1 through December 31, but we had failed to change the statement that "officers assume their duties on April 1".
We voted to have 5, rather than 3, members-at-large on the board.  This change to the composition of the Board of Directors was a response to the addition of a fourth library branch at Hill Road. We would like to have enough positions on the board to allow representation from all the branches.
We elected the 2018 Officers of the Board of Directors:
President:                    Mary Olson
Vice President:            Charles McDermott
Treasurer:                    Kathy Thomson
Recording Secretary:    Ellen Klope
Corresponding Secretary: Star Soto