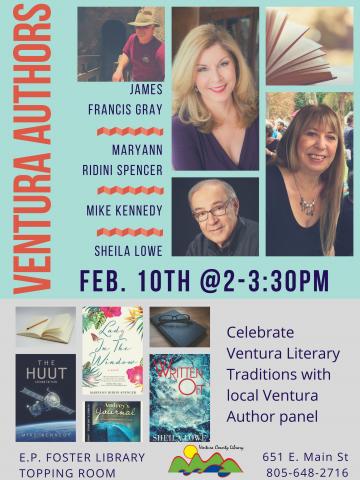 Celebrate Ventura's rich literary traditions with local Ventura authors.
Maryann Ridini Spencer, James Francis Gray, Mike Kennedy, and Shelia Lowe
will  present a lively conversation about their exciting books.
E.P. Foster Library
Topping Room
Saturday, February 10
2:00 pm to 3:30 pm
Maryann Ridini Spencer is a member of the Writer's Guild of America West, and the Producers Guild of America, an award-winning screenwriter, novelist, journalist, TV host, and TV & Film producer and director. James Francis Gray turned to writing after many years in commercial printing and has authored 4 books. Mike Kennedy used his experience working for the Department of Defense as the inspiration for his first book, The HUUT, and has started a third book to complete his Mark Springfield trilogy. Shelia Lowe is an award-winning novelist and handwriting examiner who, after writing numerous non-fiction titles, began a second career as a writer of the Claudia Rose Forensic Handwriting mystery series.