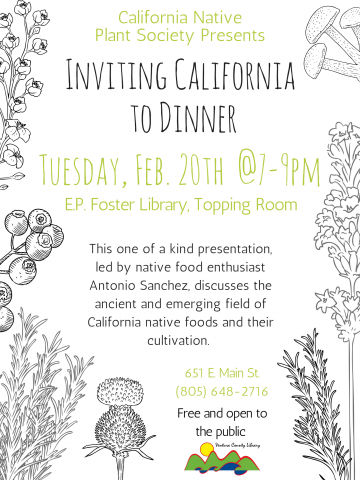 Bringing California native plant foods into your life and and the future of native plant agriculture.
Speaker: Antonio Sanchez, Nopalito Native Plant Nursery
Locally grown foods and low-water landscaping are all the rage right now, but a quick trip to farmer's market or a local nursery will showcase almost no California native plants. What if, among the more than 6,000 plants native to California, hundreds were not only edible, easy to use and delicious, but extremely low-water as well?

This one of a kind presentation, led by native food enthusiast Antonio Sanchez, discusses the ancient and emerging field of California native foods and their cultivation. With an eye on the past and the many living traditions that have been passed down by local indigenous peoples, this unique lecture explores how old ways can combine with new ways to find a place in local gardens and kitchens.
Among the dozens of native food plants discussed will be: Low-water salad greens and native grains such as Saltbush (Atriplex spp., Chenopodiaceae) and Tepary Beans (Phaseolus spp., Fabaceae), local fruits like Native Goji Berries (Lycium spp., Solanaceae) and Huckleberries (Vaccinium ovatum) and many others that can be introduced to local diets. This workshop includes tastings of native sage pesto made with Salvia clevelandii (Cleveland sage, Lamiaceae) and Allium unifolium (single-leaf onion, Alliaceae), Mesquite cookies made with mesquite powder (Prosopis glandulosa) and Agave Syrup blended with local Hummingbird Sage leaves (Salvia spathacea).