Ventura Friends of the Library is an all-volunteer organization.  We support the public libraries of the City of Ventura by raising funds through the sale of donated books.  These funds are used for the purchase of library books,  materials and equipment and to support the Summer Reading programs, The Teen Activity Group and other programs for children, teens and adults.
Our current Executive Board
President:             Mary Olson
Vice President:     Charles McDermott
Treasurer:            Kathy Thomson
Corresponding:   Secretary:  Star Soto
If you would like to join us, you can email friends@venturafriendsofthelibrary.org or download an application for membership: Membership Application (794)
SBFOL receives Poinsettia Award for Non-Profit Organization of the Year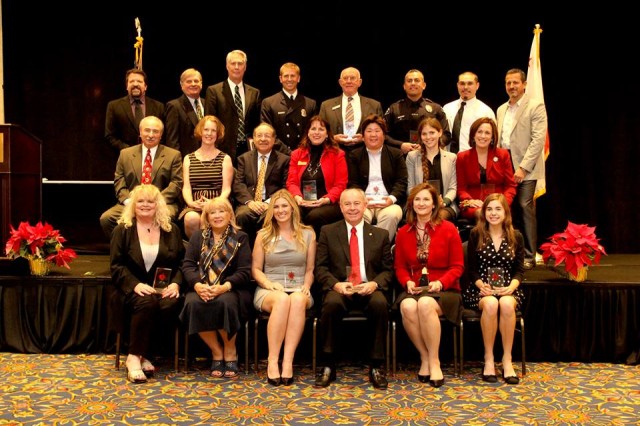 Photo courtesy of Kenny Backer
On Thursday, December 12, 2013, the San Buenaventura Friends of the Library was honored by the Ventura Chamber of Commerce with this year's award for No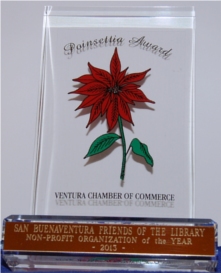 n-Profit Organization of the Year.  The 17th Annual Poinsettia Awards luncheon  was celebrated at the Marriott Ventura Beach and was attended by the City officials, legislative representatives, the Ventura Unified School District, and the local business community.  SBFOL dedicates this award to all Friends volunteers and members, past, present and future, because of their tremendous efforts year after year supporting libraries in Ventura.  Kathy Thomson, president of San Buenaventura Friends of the Library, is in the first row, second from right.
Download flyer for Annual Membership Meeting 2016: annualmeeting2016a