Foster Library is proud to present a new series geared towards writing and writers.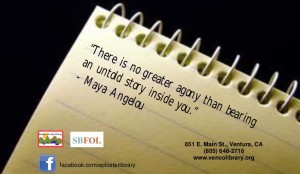 10/15 at 6:30pm – Craig Carey  – Writing your Adventure
Craig Carey took his hobby to the next level by writing about his adventures while hiking and backpacking the Southern Los Padres. Learn how to juggle a job, family, and writing in this informative seminar.
Past Programs:
7/23  Elizabeth Alvarez – So, You Think You Want to PUBLISH a Book
Writers have more options than ever to share their work. This is a practical overview, focusing on key questions to consider about the wide world of publishing platforms available today including creating a publishing plan before, during and after finishing your written work.
 Sunday, August 25  — Charles Freericks – Writing a Memoir 
Charles Freericks, author of the comedic memoir, "My Imaginary Friend Was Too Cool to Hang out With Me" speaks on how your own life may be the best grist for the mill for your writing – whether you choose to pen your memoirs or just to use autobiographical incidents for your characters in your fiction.
September 15 — Doug Taylor – Fiction Writing Essentials
Mapping the novel from attention grabbing beginnings to a surprise ending, while building it with the use of dialogue, descriptive & action narrative and subplots .