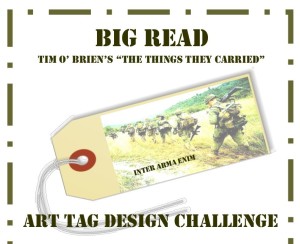 The Big Read is a cooperative effort of the City of Ventura Department of Parks, Recreation & Community Partnerships and the Ventura County Library.  It is designed to encourage the community to read, discuss and participate in activities inspired by this year's featured book, The Things They Carried by Tim O'Brien. In conjunction with this year's Big Read event, the E. P. Foster Library is sponsoring a design challenge inspired by The Things They Carried.
The goal of the Art Tag Design Challenge will be to create a miniature work of art on a shipping tag using Tim O'Brien's book as a starting point. Images may reflect war and/or the consequences, aftermath, or results of war. You can use any medium as long as it is contained on the shipping tag. Blank shipping tags will be given to participants who register at the E. P. Foster Library.  Foster Library will have colored pencils available to use if you wish to create your tag inside the library.
The Art Tag Design Challenge will run March 3rd to March 28th.
To sign up, please visit the E. P. Foster Library to register and pick up your blank tag.