Ventura Friends of the Library supports the public libraries of the City of Ventura in their delivery of library services, including:

Purchase of library materials and equipment, e.g. books, CDs, DVDs, books on tape, display and bookcases


Year-round reading programs for children and youth

Summer programs for children and youth

Special programs for families and adults

Increase of public awareness of legislation and other activities that may affect the delivery of library services
We raise funds for all our activities through resale of donated books at periodic book sales,  the book store in E.P Foster Library.
Our fundraising begins with the dues collected from members of Friends of the Library and book donations received from Friends and library patrons.
Donations of books can be left at E.P. Foster Library, Avenue Library and Saticoy Library.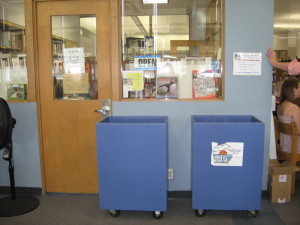 At E.P. Foster Library, there are two large blue bins outside the door of the Friends' Bookstore (the door facing the computer lab).
Donated books may be left in the blue wooden bins in front of the Friends' store inside E.P. Foster Library whenever the store is open: Wednesday through Saturday, 11 am to 4 pm.
If someone has a very large collection of books they wish to donate, they can send an inquiry to friends@venturafriendsofthelibrary.org.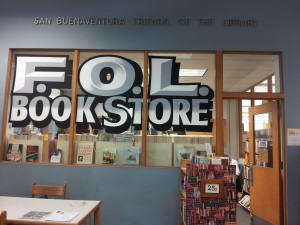 Our very devoted bookstore manager, Colleen Gallo, supervises the disposition of these book donations.
A good eye for the value of books  is essential, but in the last few years a new tool
has been available to determine the value of books.
With smartphone apps, volunteers can scan the donated books to
acquire information on market price and availability. Certain books are then offered for sale to a wider audience than those who might visit our store or periodic sales through a "storefront" on Amazon.com.
When customers of Amazon see "books available used", Ventura FOL is one of the vendors they can purchase from. This has allowed Ventura FOL to capture the value of these more collectible books for the benefit of our libraries.
Some donated books are added directly to the library's collection. Some books are chosen to fill the shelves of our bookstore.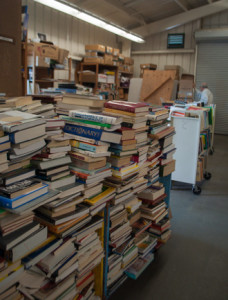 Then, the rest are sent to a warehouse for further sorting and pricing.
These books will make their appearance later at our periodic sales. When you donate books, please be sure that they are clean and still relevant so that they will be salable.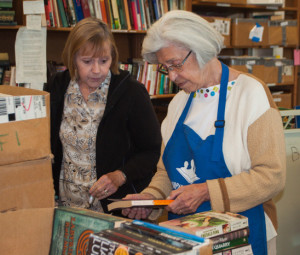 As the old saying goes, "Many hands make light work" and we do have many hands at work. We also have gotten a great return for the library for our effort and an award  from the Ventura Chamber of Commerce for Non­Profit Organization of the Year in 2013.
We are alway looking for more volunteers for all the activities necessary to keep our organization vital. Please visit our bookstore to shop and do let us know if you would like to volunteer to work at the bookstore.
Volunteers are needed on a regular basis ­­ and for specific occasions. We especially need extra help for wrangling boxes of books and driving a truck for periodic sales. We invite you to join an award winning team!